By Hal Graves, Cross Media Pros, Indianapolis, Indiana
As the Ceiling Cleaning Industry leader since 1987, Caruso Care, Inc.'s National Ceiling, Wall & Lighting Network specialized in acoustical ceiling cleaning & restoration, exposed overhead structure cleaning, walls and lighting maintenance services and other specialty cleaning services.

Today, our business owners are given all the necessary tools, systems, marketing, sales and training to succeed in the Ceiling Cleaning Industry with unlimited income opportunity by becoming a Trained and Licensed Service Center, and by joining the National Ceiling Cleaning Network.

Robinson's Ceiling Cleaning is a Service Center Owner of the National Ceiling, Wall & Lighting Network (NCWLN) that has benefited from our years of experience, superior equipment and products, sales and marketing knowledge/materials and the overall help and support from the national network. Visit their website at http://robinsonsceilingcleaningcom .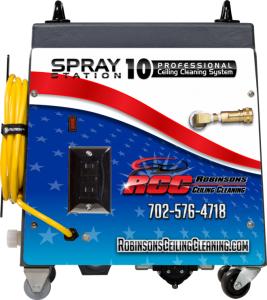 As a Service Center owner Robinson's Ceiling Cleaning received custom cleaning systems, specialized equipment, cleaning products and training to fully be able to service their customers, starting with the Spray Station 10 which is the most advanced spraying system available for commercial ceiling cleaning today. Next, our team of graphic designers graphically enhance each service centers' owners ceiling cleaning system with each service centers own branding, with their logo, telephone number, web address and a customized theme. The Spray Station 10 was built to work in harmony with our Perfect Mix Ceiling and Wall Cleaning solutions. The finest ceiling cleaning solutions for restoring surfaces to a like-new condition.

As a service center owner, you will be given a huge advantage. How you ask? Our multimedia company, Cross Media Pros, owned by Caruso Care, Inc. has a team of multimedia experts that helps each new service center receive state-of-the-art sales and marketing materials, which is included in the service center starter package.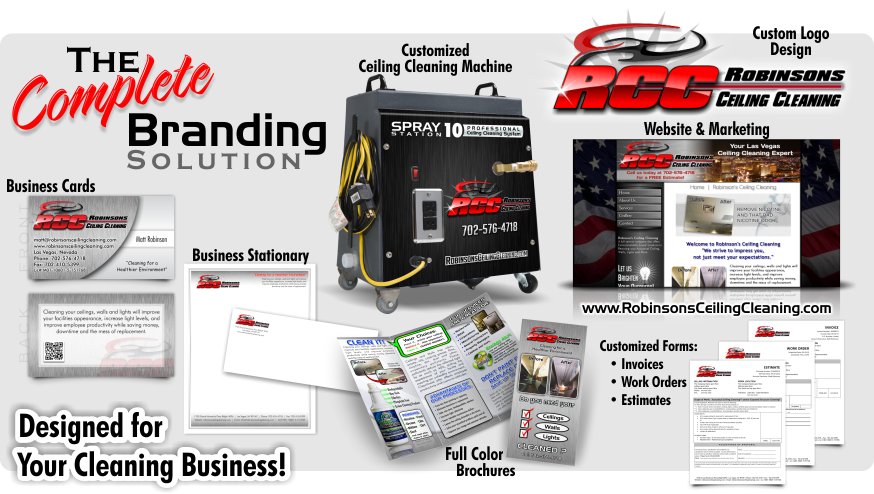 We provide all types of marketing help from custom logo design, business cards, letterhead, custom forms, custom full color cleaning brochures and marketing binders for developing their marketing brand as well as a new website. No need to go outside and find other vendors to design or print your materials, or help design other materials in the future. We provide the best sales and marketing experts to help our Service Centers display a professional image. We believe that it's just not good enough to have the best Ceiling Cleaning Equipment and Products to be successful in the ceiling cleaning industry. You must have a good company brand and image in today's world of sales and marketing to be successful, and our multimedia company Cross Media Pros will provide you just that.
We offer tremendous value in branding our Service Center's ceiling cleaning business. Robinson's Ceiling Cleaning is another successful example of partnering our products and services, marketing and sales and training with an entrepreneur who wants to achieve maximum business success. Call the national network at (877) 763-1471 to find out how to become a Service Center dealer, and we will guide you through the road to success.