TAKE THE TIME NOW!

Note: By taking the time to fill out the information form now, saves your valuable time by not spending time repeating this information over the phone if you call.
THE FASTEST WAY FOR US TO HELP YOU!
Why is filling out this form the fastest way for us to help you, it's because the first thing someone is going to do, is gather up this information to start with in order to help you. 

Save valuable time by filling out the form now!



ABOUT US - SAFETY PROGRAM - NCWLN - NATIONAL CEILING, WALL & LIGHTING NETWORK









Double Click to Enlarge Photos



Ceiling Cleaning and Exposed Structure Cleaning Safety is one of the most important parts of any Ceiling Cleaning Business:
Our State-Of-The-Art Custom Safety Software and Program has been Approved by such companies as Eli Lilly & Company, Clarian Health, Sears & Roebuck, Kmart, and more.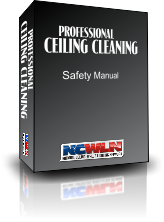 Our Technicians are Certified in OHSA Safety training Courses.
Our Technicians are Certified in Lift & Boom Equipment.
Our company has never filed a Workmen's Comp claim since starting in 1987.
Our Crews have never been fined by OSHA for any violations.
Our Crews have traveled over 3,000,000 miles from East Coast to West Coast accident free.
CUSTOM COPYRIGHTED SAFETY MANUAL

We have custom copyrighted safety manuals.  By using our custom safety manuals insures us and our service centers the most advanced State-Of-The-Art Safety program available.  From new hire to tool box talk, we have them with us all the time on our crews.  Today, companies are being fined thousands of dollars because of their lack of safety knowledge and safety manuals, but we us you can rest assured that our safety manuals and procedures are followed.  WE TAKE SAFETY VERY SERIOUSLY!  And we have never, since 1987 of doing work for thousands of customers, have been fined for any safety violations, nor have we ever had an accident on the job.