Double Click to Enlarge Photos



Ceiling Cleaning Copyrighted Software and Systems for the Ceiling Cleaning Business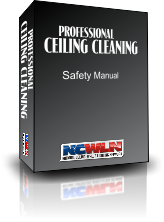 Our exclusive copyrighted safety software and systems are only available for professional users of The National Ceiling, Wall & Lighting Network, its employees, and Network Service Centers. These systems give our company the ability to deliver superior products, equipment, services and software to our clients and customers.
Businesses, retailers, manufacturers, restaurant owners and industrial facilities needing acoustical ceiling restoration, can trust Caruso Care, Inc.'s superior cleaning products and solutions.  Our ceiling and wall cleaning solution can restore your acoustical ceilings to a like new condition.
Read References from Walmart General Contractors about how great our cleaning products worked for them.
COPYRIGHTS AND EXCLUSIVE SYSTEMS
 Perfect Mix Environmentally
Green Cleaning Products
There is nothing safer, more effective, available in the market place today that will "out clean" our Perfect Mix Environmentally Green Cleaning Products.
Nationally tested and approved, using only the highest quality ingredients and manufacturing standards.
Call us today at 1-877-763-1471 for more information on our products or email us at [email protected].
Note:
If you see any of the charracters display on this website used by anyone other than NCWLN and its service centers, please contact us immediately.
Or, Contact us at 1-877-763-1471, so that we can prosecute those that copy our work.
Our Company has spent the time and money to copyright all of its, charracters, software and logo's so that others would quit trying to copy our work.
All other copyrights are the property of their individual owners.
Once you use our services you will see the difference between us and the other "so called ceiling cleaners".
NCWLN, is more than just a ceiling cleaner.
We are a National Specialty Cleaning & National Lighting Services Expert.