Double Click to Enlarge Photos



Ceiling Diffuser and Grid Polish for Cleaning and Polishing diffusers and Acoustical Ceiling Grids / Tbar
Caruso Care, Inc. and The National Ceiling, Wall & Lighting Network have developed the first of its kind Perfect Mix™ Diffuser & T-Bar Grid Polish which in the newest addition to our other developed Perfect Mix™ Exclusive Cleaning Products and Solutions for cleaning and restoring some of your toughest cleaning projects.
Perfect Mix™ Green Cleaning Solution include cleaning solutions for ceiling cleaning and acoustical ceiling restoration, exposed structure cleaning, wall cleaning, light fixture cleaning and other specialty cleaning needs. 
Businesses, retailers, manufacturers, restaurant owners and industrial facilities needing acoustical ceiling restoration, can trust Caruso Care, Inc.'s superior cleaning products and solutions.  Our ceiling and wall cleaning solution can restore your acoustical ceilings to a like new condition.
Read References from Walmart General Contractors about how great our cleaning products worked for them...
PERFECT MIX™ PRODUCT #812 DIFFUSER AND GRID POLISH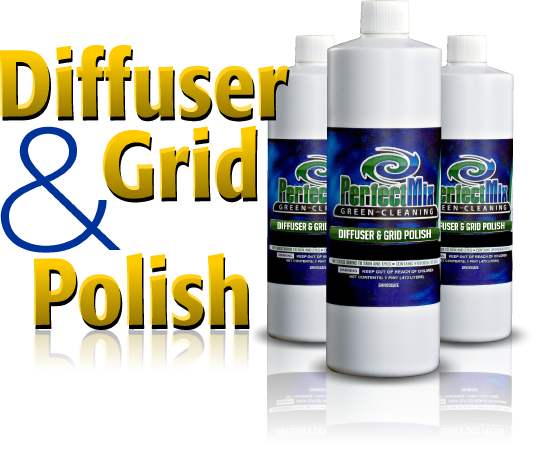 Our Perfect Mix™ Diffuser & T-Bar Grid Polish is a one of a kind product that was developed by Caruso Care for Cleaning and Polishing diffusers and T-Bar Grids.
Our Diffuser & T-Bar Grid polish will make your diffusers and grids shine and condition them for better soil resistance to dirt, grease and finger prints.  This one of a kind product cannot be found elsewhere and we are the only one that has developed such a product from the continued practices of cleaning for our customers and our research of what will make our customers finish product better.
HERE IS WHAT THE T-BAR GRIDS LOOK LIKE WHEN WE CLEAN AND POLISH YOUR CEILING GRID SYSTEM!

We clean the Diffusers & T-Bar Grids using our exclusive ceiling and wall cleaning products and we go one step further for our customers and we polish the Diffusers & T-Bar Grids to make them shine and restore them to their original luster.  No one else does this step and procedure and this is just another reason why our services at the National Ceiling, Wall & Lighting Network deliver a better finish product in the market place.
To the right is what the T-Bar Grids look like when our competitors are finished cleaning your ceiling.  Notice the residue that is left behind on the T-Bar Grid system only to have it months later leave damaging marks and rust  that is created by their poorly designed ceiling cleaning products that damages your Diffusers & T-Bar Grid System.