Since 1987, our National Network of Specialty Cleaning & Lighting Service Experts have delivered our products and services all across the USA ( from New York to California, from Michigan to Texas) accumulating years of experience and knowledge suppling our services to Top Retailers and Fortune 500 customers provides us and our Service Centers expertise not available elsewhere. Exclusive Products and Equipment to handle any size job.
Find out for yourself why so many customers trust their Specialty Cleaning and Services needs to NCWLN, we deliver better results time after time. Just Ask our customers, Fortune 500 clients, such as Duke-Weeks, AAFES, REI Construction Services, Herff Jones, and great restaurants, such as Don Pablo's, Hardee's, KFC, McDonald, Burger King, Red Lobster, Bahama Breeze and more. Learn more about featured Testimonials and Case Studies .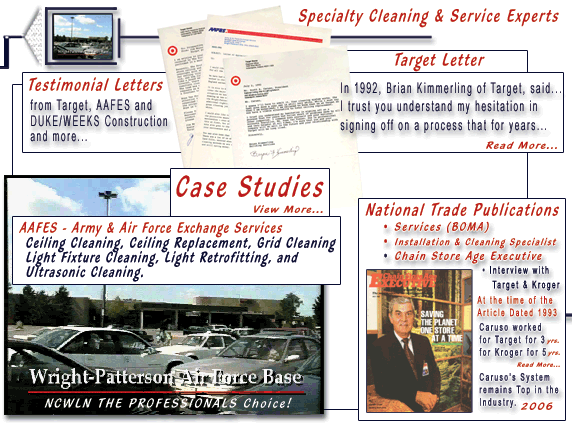 Explore our website and discover how we can save your company, time and money, while improving the overall appearance of your location. Making your facility clean, bright and healthier will also improve employee productivity and customers additudes.
Remember, looking at a tough ceiling, wall or lighting project, give us a call, you'll be glad you did!
"Call the Best" and "Forget the Rest".
National Office Staff:
"Click on" each name to learn more.
Scott Caruso - National Operations Director - [email protected]
Karmen Caruso - National Sales Director - [email protected]
Hope Van Fossan - National Accounts Executive - [email protected]
"Click On" the pictures above to learn more about our staff.
SINCE 1987

Since 1987, The National Ceiling, Wall & Lighting Network has delivered services for the Specialty Cleaning and Services Industry, specializing in ceilings, walls, lights and other specialty cleaning services.

Need someone to re-lamp or retrofit those lights. We have cleaned, relamped and retrofitted millions of square feet, backing up promises with results. Explore our web site and find out why our exclusive products, equipment and techniques quarantee superior results.

Specialty Cleaning Experts

Simply stated.......The National Ceiling, Wall and Lighting Network has been the best since 1987, we have set the standands that others have only strived to meet. Using our exclusive techniques and products has set us apart from the rest. Our competitor's have tried to copy and duplicate us and have failed. Why?

It's like a special recipe (like KFC) that only we have. Our exclusive cleaning formula's can't be compared, our cleaning methods deliver superior results on the toughest and largest facility cleaning jobs, without any mess, and, with superior results, time after time, after time.

No one can accomplish your Speciality Cleaning and Services needs with more expertise than NCWLN. That's a Fact! And we can prove it.

Experience
+
Hard Work
Knowledge
=
What Makes Us The BEST?
---
National Ceiling, Wall & Lighting Network
Contact Us
Toll Free - 877-763-1471

24-HR Fax - 877-763-1479

Send Mail to:

Corporate Headquarters

National Ceiling, Wall & Lighting Network

8063 Madison Av - #247

Indianapolis, Indiana 46227
---
Order Your "Free" Multimedia CD-ROM
Order our "Free" Multimedia CD-ROM today!
This Mulitmedia Cd-ROM contains interactive information about NCWLN and our services.
---