Double Click to Enlarge Photos



Consider becoming part of the Ceiling Cleaning Services Industry by Joining the National Ceiling Cleaning Network and find out why Ceiling Cleaning is one of the best start-up or add-on businesses:

Ceiling Cleaning can be one of the most profitable start-up businesses or add-on service to your existing business.  Why?  It's simple!  There are millions of square feet of retail, office space, restaurants and millions of clients all across the country that are responsible for maintaining and cleaning their working environment, who better to take care of their Ceiling Cleaning needs than you?  With the right Equipment, Products and Training you can start or add Ceiling Cleaning to your scope of work and benefit from the profits that are available.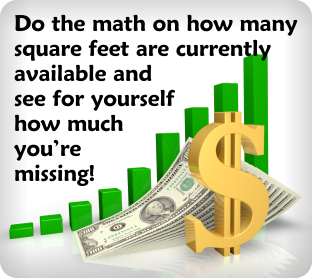 Ok, What kind of Profits?  The national average cost for cleaning acoustical ceiling tiles is .04 - .08 cents per square foot for product, materials and labor, while the National average charge for the services range between .35 - .50 cents per square foot.  You do the math on the number of square feet of acoustical ceiling installed every year in your area and the number of ceilings that have to be maintained, every 3-6 months for restaurant's and food prep areas and that's the possible revenue you could be making on your new or current customers.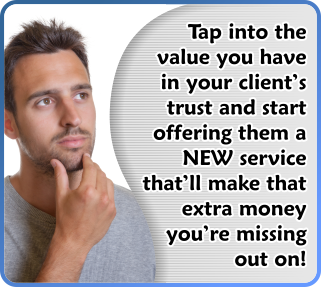 Ceiling Cleaning is a great way to get your foot in the door with new customers as well.  Let's say you want to call on a new client and you are competing with another organization that delivers the same services you do now.  What is going to make you different than your competitor?  Could it be, you offer services they don't, like Ceiling Cleaning and Open Structure Cleaning?  Ceiling Cleaning allows you to solve an area of facility services that others don't, allowing you to get in the door to the clients and customers you would like to have in the future.  Then, once in the door you have the opportunity to supply that customer all the other services you offer.
Today, you need to capitalize on your new and current customers need to have their Acoustical Ceiling Cleaned which will make more profit on each and every account.  The bottom line is.  Either you are taking care of ALL OF YOUR CUSTOMERS NEEDS.  Or someone else will.
Take the time to review the information below and learn how you can become a licensed service center and join the ceiling cleaning network and the opportunities that are available to you by learning more about the Ceiling Cleaning Business from the Industries Best Ceiling Cleaning Network.
We have been in the specialty cleaning business since 1987, specializing in Acoustical Ceiling Cleaning and Restoration, Exposed Overhead Structure Cleaning, Lighting Systems and more.

We encourage you to check out the rest of our website and you will find plenty of information about our service company.  We specialized in big box retailers, like Walmart, Kmart, Sears, Target, Meijer and many other types of facilities from Health care to restaurants to manufacturing plants with every type of ceiling surfaces and high ceiling requirements. 
We have been publicized in many trade pubs and magazines with interviews with The Kroger Company and Target Stores and you can view some of the articles at https://ncwln.com/10-trade-pub-articles.html .
We have many references from some of the Largest General Contractors doing work for Walmart, and you can view some of those letters at https://ncwln.com/11-references.html.
We also own a multimedia company that helps to create websites and marketing information for our ceiling cleaning service centers and other customers.  From Business Cards to Machine Designs we can provide turn-key solutions to all your business needs.  We help brand all of our Services Centers by supplying a complete Marketing and sales approach using our Multimedia Company which can be found at http://crossmediapros.com. You can check out a couple of our websites we built for http://apexceilingcleaning.com and http://SafetyTecCeilingCleaning.com
Here is one of latest Service Center that we trained from Mobile AL, Call Paul Baldwin at 251-304-9513, http://HeadsUpCleaning.com.  We branded a whole new look and feel for the ceiling cleaning business for our customer, and we supplied everything they needed to get started, from new business cards, letterhead, envelope, estimates, invoices, work orders to video production.  We are setting up our new service centers with plenty of marketing and branding to hit the ground running.  Followed by 30 years of knowledge gives our services centers the ability to do well in the ceiling cleaning business.
Our Ceiling Cleaning Network
Supplies Work to our Service Centers
Take a few minutes to call or review the information below about how we help our service centers by getting them work.
Take a few minutes and call a few.
Call Curt Stemmerich at 412-292-6756 with Enviro Cleaning Services, we just gave him 3 jobs in thirty days totaling over 53,000 dollars' worth of work, one job alone was 43K in 5 Days, check out his video testimonial below , or check out his new website at http://enviroceilingcleaning.com .  In this year, along we have giving Mr. Curt Stemmerich over $65,000 Dollars' worth of work. (see Video Testimonial below)
Or Call, Lance Buchel at 321-302-6172 at Buchel Construction in Cocoa, Florida, we gave him 25,000 dollars' worth of work on some Burger King Projects.  You can also check out the new YouTube video he sent in to us below as well.  Buchel Construction Inc. just completed a $10,000 Dollar Job for changing out lighting components.  By Learning lighting as well as ceilings and walls allows you to take advantage of opportunities that are available.  Call him and find out how we are getting work for our service centers. (see Video Testimonial below)
I guess what we are most proud of, is our ability to get work for our service centers. 
Feel Free to call some of our guys that we have help.  Call Mike Ametay with Apex Ceiling Cleaning in New York, NY at 917-900-5778, http://apexceilingcleaning.com - (see Video Testimonial) or Barry Miller, with Big B Restoration at 502-396-9783 or visit his website at http://bigbrestoration.com  and http://bigbceilingcleaning.com both of them came from another ceiling cleaning organization; just ask them what the difference is using our products, equipment and website designs or you can check out the testimonial video Bill Gassaway he sent to us below as well as some of the other testimonials from some of the service centers.
Since 1987 we have called on the Ceiling Cleaning and Exposed Structure Cleaning industry, our hard work is paying off. We are in the process of setting up more service centers that can handle the work.   Most of our service centers owners are hard to get a hold of because they have so much going on themselves, so if you don't get them, leave a message and they will get back to you.

Our Professional Starter Package includes two (2) Ceiling Cleaning Machines to be customized to fit your company image and to make the Spray Station 10 your own design, you can view some of the design samples at https://ncwln.com/42.  Our Package also includes Sales and Marketing Binders, marketing materials along with the 1000 full color brochures and website, which is included in the package.  When you get the website in your ceiling cleaning starter package, the only other cost you have is $24.95 a month for web hosting.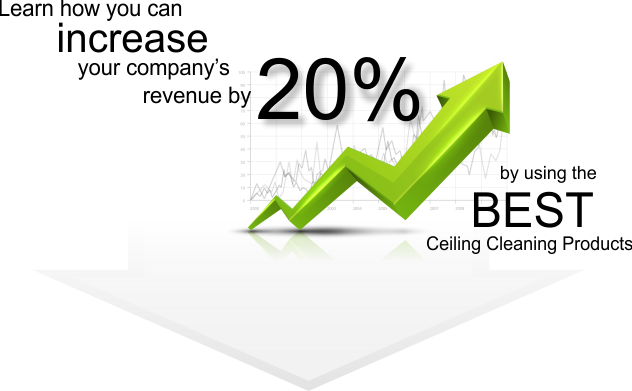 You know how you want that new Truck or Van for your company vehicle, or that vacation you always wanted to take, or to be able to send those kids to college, but not sure where the money is going to come from, well here is one big reason why our ceiling cleaning products over the years will benefit you to have those things you have always wanted and need. 
Take a look at the comparison chart below, and see how our One gallon of extras ceiling cleaning solution Per Case will deliver more revenue per case then the rest of the ceiling cleaning solutions out there.  Remember, the few ceiling cleaning Products out there only make 4 gallons of Solution per case and ours Makes FIVE GALLONS.  YOU DO THE MATH; THE ANSWER IS CLEARLY IN THE NUMBERS.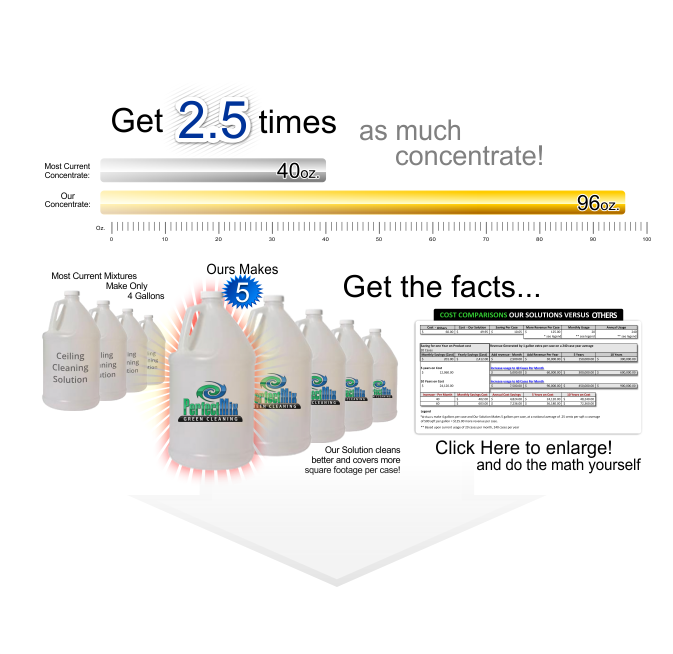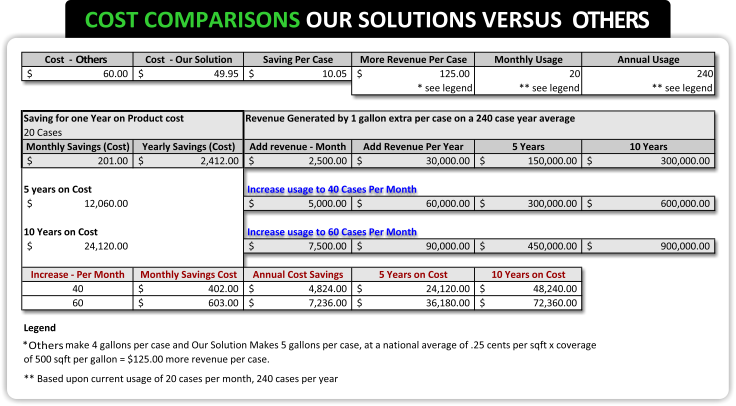 Your website comes with a content management system that allows you to add as many pages, information, graphics, with flash animation, content sliders, fly-out tabs, blog modules and more, and is one of the simplest systems you will ever work with.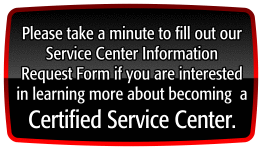 Joining the network will cost $495.00 for the license agreement and allows you to get work from the network and be part of the family of ceiling cleaning experts working together, among other things, you will receive sales and marketing pitch books with flyers for Hospitals, Retail, Restaurants and more.  Full Color Brochures and Business Cards in your starter package.
After you have had a chance to review all the information feel free to give us a call so that we can talk about how we can help you, call 877-763-1471 or email us at [email protected].
Check out the Video "Click Here" on a job we just did in Chicago that paid $45,000.00 dollars and we did it with 6 guys in 6 days.  Now that's some profit.  Also, you can check out letters of Testimonials from some of the Largest General Contractors on this same page as the videos.


Here is one of our Ceiling Cleaning Projects in Chicago, IL for a Manufacturer that had very expensive Clean Room tile.  This manufacture just bought this 70,000 SF manufacturing facility and needed to have it cleaned in order to make it a clean production facility, and, needed to save money as well.  We Restored this Acoustical Ceiling and Saved our Customer over $250,000.00 Dollars versus ceiling replacement and we made $45,000.00 with 6 guys in 6 days.
Click Photo to Enlarge
Click Photo to Enlarge

Informational PDF Downloads for Our Ceiling Cleaning Starter Package, Ceiling Cleaning Equipment and Products, Specifications Sheets and Price List.

Ceiling Cleaning Starter Package Flyer

Ceiling Cleaning Starter Package Flyer



Check out our Ceiling Cleaning Starter Package Flyer for content contained in our Professional Ceiling Cleaning Starter Package to become a Certified Service Center.

Ceiling Cleaning Starter Package Brochure


Ceiling Cleaning Starter Package Brochure



Check out our Ceiling Cleaning Starter Package that contains a detail overview of our Professional Ceiling Cleaning Starter Package for becoming a Certified Service Center.

Spray Station 10 - Ceiling Cleaning Machine


Super Spray Station 10 - Ceiling Cleaning Machine


801 - Ceiling & Wall Cleaner Spec Sheet


808 - Exposed Structure Cleaner Spec Sheet


License Agreement


License Agreement - Call for Current License Agreement

You must have a License Agreement to become part of the National, Ceiling, Wall & Lighting Network.





Price List 2017


Price List 2017 - Call for Current Price List

Confidential Price List for Licensed Service Centers


 

Centers all across the country and around the world for the cleaning and restoring acoustical ceilings, exposed overhead structures, wall cleaning, light fixture cleaning and many other specialty cleaning services. 

Our Network of Services Centers use only the best environmentally green cleaning solutions that have been tested and used since 1987.

If you are interested in becoming a Certified Service Center Click Here to see how you can become part of this growing industry and fill out the information form. To become a Licensed Certified Service Center, you will be need to purchase a Professional Ceiling Cleaning Starter Package.

CALL US ANYTIME  at 877-763-1471 - 24/7 or
EMAIL US at [email protected] IF YOU HAVE ANY OTHER QUESTIONS.

Ceiling Cleaning Video Testimonials From Our Ceiling Cleaning Service Centers

Start the Video, once the Video has started double click on the video to view FULL SCREEN in HD.
  


Enviro Ceiling Cleaning
Service Center Video Testimonial


SafetyTec Ceiling Cleaning
Service Center Video Testimonial


Green Clean NW
Service Center Video Testimonial


 Mr. Curt Stemmerich 

  Mr. Andy Jacobs

  Mr. Bill Gassaway

  

  

 


Buchel Construction
Service Center Video Testimonial


Advanced Ceiling Cleaners
Service Center Video Testimonial


All Pro Ceiling Cleaning
Service Center Video Testimonial


Mr. Lance Buchel  

Mr. Jeffrey Alexander

Mr. Osvaldo Maldonado