Double Click to Enlarge Photos



Ceiling Cleaning, Exposed Structure Cleaning, Light Fixture Cleaning, Wall Cleaning and More:
We Get Results, Results, Results

We have restored millions of Square feet of Acoustical Ceilings utilizing our Ceiling Cleaning Products, Methods and Knowledge. 
Check out some of the before and after pictures below
and most of them are Click to Enlarge:
Here are before and after picture of a Casino Ceilings,




which was Revealed Edge and 9/16" Grid and Smoking.



   

Our Specialist will Detail your Ceiling
System by Polishing it as well.

 
Here is a before and after picture of a Supermarket
Ceiling that was Cleaned.  Check out the Difference!

 



Here is one of our Ceiling Cleaning Projects in Chicago, IL for a Manufacture that had very expensive Clean Room tile.  This manufacture just bought this 70,000 SF manufacturing facility and needed to have it cleaned in order to make it a clean production facility, and, needed to save money as well.  We Restored this Acoustical Ceiling and Saved our Customer over $250,000.00 Dollars versus ceiling replacement.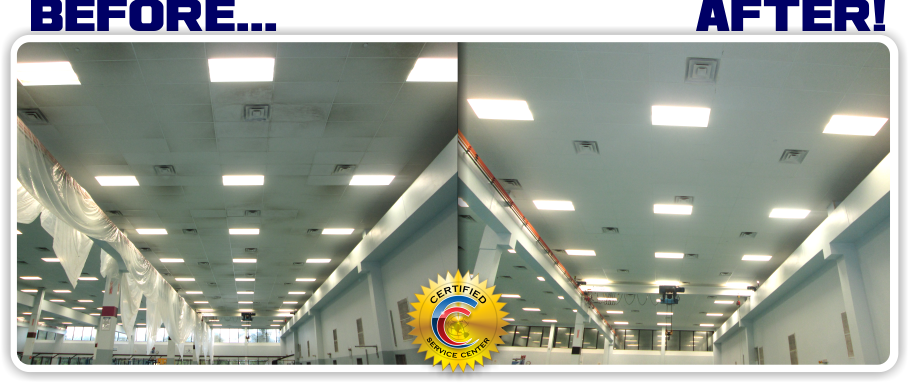 We protect the Investments of our
Customers by Covering Everything.

 

Specialty Cleaning Experts to handle
even your toughest cleaning needs.
We clean Light Fixtures and Replace Water Damaged
Ceiling Tile during the Cleaning and Remodeling Process.

 


Why our Ceiling Cleaning Network
?
Since 1987, Fortune 500 Companies, Top Retailers, General Contractors, Business Owners and Managers have trusted their Acoustical Ceiling Cleaning and Exposed Open Structure Cleaning work to Caruso Care's - National Ceiling, Wall & Lighting Network.  Learn More....
Interviews in Trade Publication Magazine!
In early, 1990's, Chain Store Age Executive Magazine did an interview with The Kroger Company and Target Stores. In which, both The Kroger Company and Target Stores, confirmed that Scott Caruso and his company were cleaning ceiling tile and grid to a like new condition with results in the 95% range.  Learn More.....

Foremost Ceiling Cleaning Industry Expert!
Scott Caruso has established Caruso Care's - National Ceiling, Wall & Lighting Network as the nation's premier company supplying state-of-the-art services and products uniquely designed to solve your most difficult ceiling restoration, lighting, energy auditing and recycling problems.  Today, Scott Caruso is considered one of the foremost Experts in the Specialty Cleaning Industry.  Learn More....